D-Stability
D-Stability is Deltares' software product for macro stability: the soft soil engineering software for the analysis of slip planes. For the Netherlands the safety and stability of the primary sea and driver dikes is essential since over half the population lives below sea level. In total, 3,500 kilometres of primary dikes and over 100,000 kilometres of other embankments protect the country from flooding. Over the past 75 years, the stability of the majority of the dikes and embankments has been checked using methods and tools developed by Deltares, the leading Dutch institute in this field. Deltares offers D-Stability to the geotechnical community enabling the stability assessment of soft soil slopes and embankments.
D-Stability contains three Limit Equilibrium Methods by Bishop, Spencer and Uplift-Van. It supports both drained and undrained material behavior. To facilitate the undrained Shansep analysis, D-Stability allows for staged construction to administrate the yield stress field. The safety factor can be calculated in each construction stage to administrate the safety of a design in time.
D-Stability supports loads and reinforcements. It displays the representative slip circle and allows for detailed inspection of the forces acting upon each slice. This all in a user-friendly interface to enable efficient assessment and design.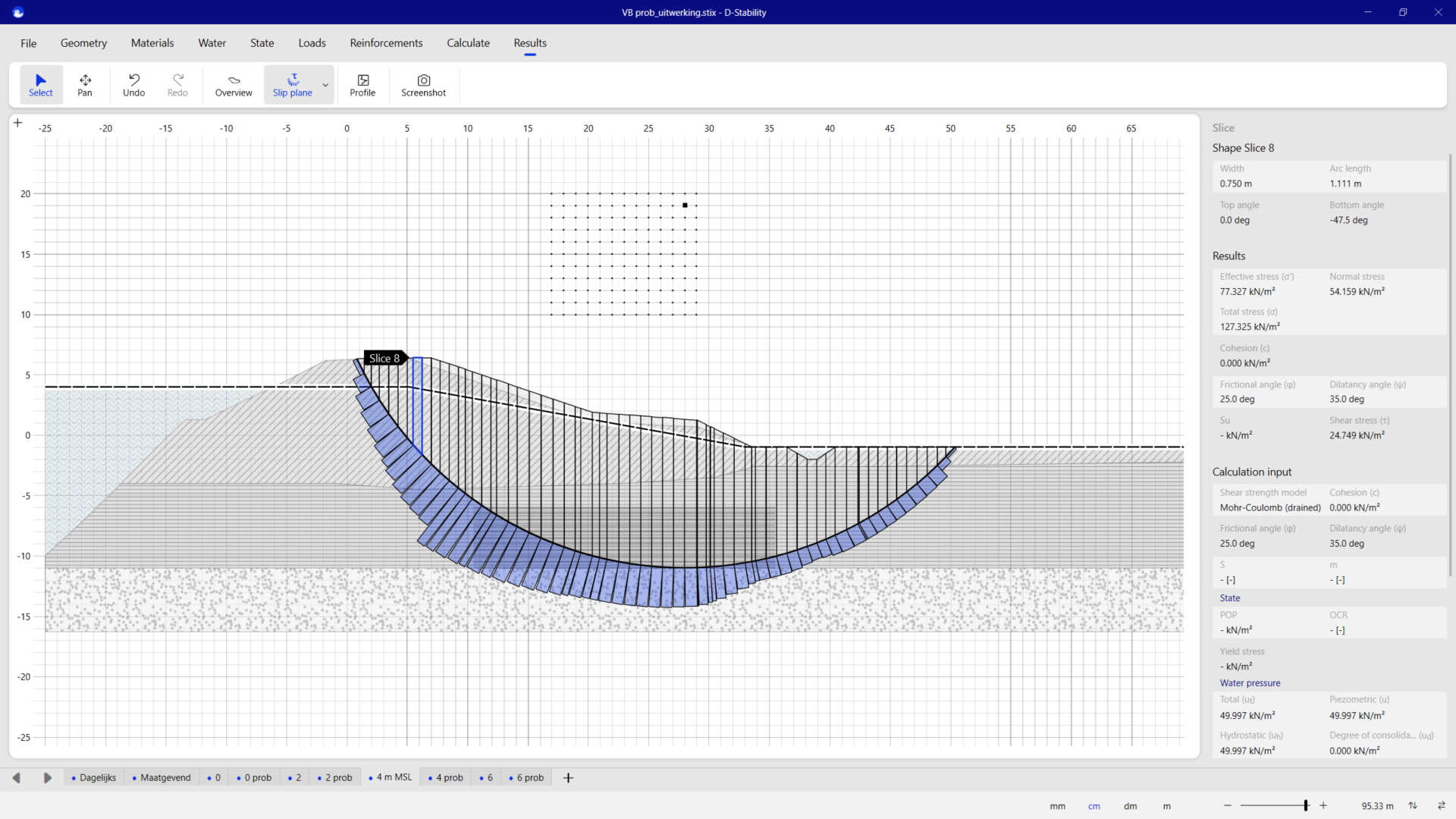 Demo / images
Draw a geometry

Add materials

Water pressures

State parameters

Loads

Constraints

General results

Detailed results

Inspector
Service packages
D-Stability is free to use in its basic package.
The advanced package offers support, an online environment and the former release of D-Geo Stability 18.2.
Support
The user manual offers an installation manual, an extensive tutorial and a technical  scientific background document. This document can be found at the left bottom of this page.
Further support will be offered through our advanced service package.
All feedback or further questions is welcome through our feedback form.
Technical specifications
Minimal hardware requirements:

1 GHz Intel Pentium-processor or similar
1 GB RAM
100 MB free disk space
Resolution of 1366 by 768 at 100%

Operating system:

Windows 10.
Older Windows versions are not supported, but it will most likely work if .NET Framework version 4.6.2 or higher is installed.
Feedback
All feedback is appreciated.